2023
Rahul / January 01, 2023
5 min read • ––– views
Happy New Year, everyone! As we begin a new year, many of us have set personal resolutions for ourselves. Whether it's to exercise more, eat healthier, or learn a new skill, it's always a good idea to start the year off with a fresh slate and a clear set of goals.
---
Just like many of you, I've set a goal for myself, to write daily on a variety of topics, with a focus on development stuff more. There are many reasons for this resolution. Writing helps me clarify my thoughts and ideas, and allows me to share my knowledge and experiences with others. Plus, it's a great way to track my progress and document all my learnings. I'm excited to see how this daily writing habit helps me grow and develop in the new year.
I had a productive period(2020-2021) in which I wrote over 300 articles(200 articles generated a readership of 500K+ and the rest 100 were on different platforms that got about 400k+ extra), but eventually got sidetracked with other priorities and lost motivation to continue writing about development.
However, this year I am determined to reignite my passion for writing and have set a goal to produce 500 articles, including both short-form and long-form content.
While it may be a challenging goal, I am committed to putting in the effort and dedication needed to achieve it. To help track my progress, I have set up a system in Notion to monitor my article writing goals.
Despite not feeling fully prepared, I am determined to give it my best shot and am excited to see where this journey takes me.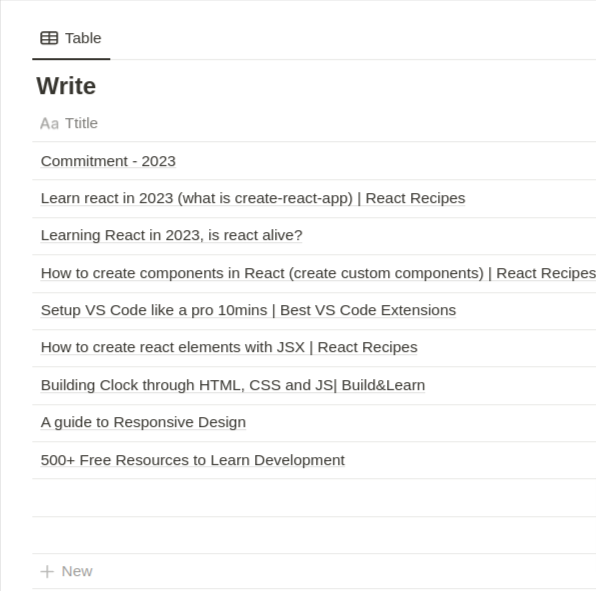 2023, my year?
While it is true that setting long-term goals can be challenging, I believe that having clear objectives to strive towards can be a powerful motivator. That being said, I have set some specific achievements that I hope to accomplish in 2023.
While I am not sure if these should be referred to as goals, targets, or something else, what matters to me is that I am determined to make progress toward achieving them.
With dedication and effort, I am confident that I can make meaningful progress toward my aspirations for the year ahead.
Some of my key objectives for 2023 include:
Mastering front-end development, including learning and becoming proficient in technologies such as React and Next.js. (I can still write code and build web apps, but there are something I don't have an idea for and want to learn in a good way)
Losing weight and maintaining a healthy weight of 60kg, with a target to reach this goal by the end of Q3.
Making a daily habit of writing (covered above)
Helping Fueler achieve 1 million visits by the end of the year. While I have not yet developed a specific plan or strategy for this, I am committed to coming up with a comprehensive approach that will support the team in achieving this milestone. The core team at Fueler has already accomplished so much, and I sometimes feel like I am not contributing as much as I could be.
However, I am determined to do my part to help the team succeed and reach this impressive goal. In the coming months, I will be working on creating a set of strategies that will help drive traffic and increase visibility for Fueler.
These are the only 4 goals I want to share right now.
---
Hey Rahul, what do you do?
You have come here, maybe you have questions in your mind.
hey Rahul, what do you do?
Ans:- When someone asks me what I do with my time, I like to joke that I "time pass" or "pass time." But in reality, I am a busy 18-year-old building backlink (and making a decent amount of money, if I do say so myself). While I may not be attending college (which I believe is overrated), I am constantly learning and improving my skills in coding and content writing. Plus, I am even making a small contribution to Fueler. All in all, I like to think I am making the most of my time.
It can be tough being someone who doesn't have many friends, but I try to focus on the long-term and not get too caught up in the lack of social activity in my life at the moment. While I may not have a ton of friends, I am grateful to have a small group of people that I consider to be close companions. I am pretty proud of these three friends. Overall, I am content with my current social situation and am finding joy in the little things.
---
Now you know about me, what I currently do, and the major things I have to achieve this year. You can explore this website, and find some links you can reach me.
Hustle Hard.